21 January 2019
New Book Published: Mitteleuropa Denken
Jiří Šubrt, Faculty of Humanities, Charles University and Walter Pape, University of Cologne (eds.) have published a new book titled "Mitteleuropa Denken: Intellektuelle, Identitäten Und Ideen: Der Kulturraum Mitteleuropa Im 20. Und 21. Jahrhundert" (de Gruyter, 2018).
Prof. Miloš Havelka, prof. Jiří Pešek, prof. Johann Pal Arnason, assoc. prof. Marek Skovajsa and PhD students Jaroslav Bican and Jan Coufal of FHS have contributed to the book.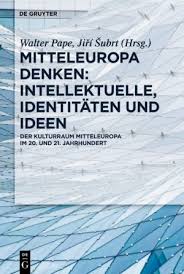 Der Band widmet sich dem Kulturraum 'Mitteleuropa'. Das Thema wird nicht als geopolitisches Problem abgehandelt, sondern fokussiert werden politische, soziale und kulturelle Konzepte der Geschichte, der personalen, nationalen und (mittel)europäischen Identität, wie sie von Politikern, Soziologen, Philosophen, Schriftstellern und Literaturwissenschaftlern im 20. und 21. Jahrhundert diskutiert werden. Mitteleuropa wird gekennzeichnet durch Konflikte, kulturelle Interaktionen, die Mischung von Kulturen sowie unterschiedliche Traditionen, religiöse Orientierungen, nationale Interessen, Ideologien und Ideen. Das führte zwar zu zahlreichen Kontroversen, Spannungen und Konflikten, schuf aber auch ein auf seine Weise einzigartiges intellektuell und kulturell inspirierendes Umfeld. Kulturelle Vielfalt (Sprache, Religion, Kunst, Literatur) und ethnische Minderheiten wurden innerhalb der mitteleuropäischen Staaten bis in das frühe 20. Jahrhundert zumindest als existenzberechtigt angesehen. Der Fokus liegt auf Persönlichkeiten, die als "hybrid border crossers" den Kulturraum prägten und weiterhin prägen. Das Ziel des Bandes geht über eine Bestandsaufnahme hinaus und fragt auch nach der Wirkungsgeschichte und den Auswirkungen für die Gegenwart.