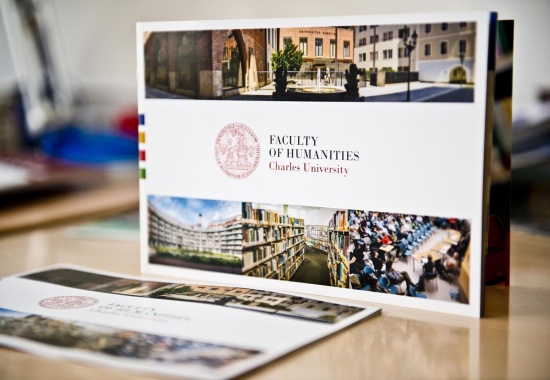 Faculty of Humanities offers eight postgraduate (Doctoral) study programmes in English, German, or French:
...and other postgraduate (PhD) study programmes in Czech. You can find a list of all of the doctoral programmes offered by the Faculty of Humanities on our Czech webpage, "Doktorské studium".
Application Form and Deadline
The application deadline for applicants wishing to start their studies in the 2021/2022 academic year is April 30, 2021. The application forms are available on our Admissions portal here.
Exam date
Exam date for our Doctoral study programmes applying for the 2021/2022 academic year: 7. 6. – 18. 6. 2021.
Exceptions: Alternative exam date is available only for serious reasons. In case of an illness, a medical report should be submitted as evidence to the official request for an alternative exam date. It should be sent no later than 3 days after the regular exam date.
Applicants with a disability, such as a specific learning difficulty, can request that the admission process be specially adapted to meet their needs. In this case a medical report must be included in the application form.
Admission Information
Please note: The recognition/nostrification process can take a long time (1-3 months) and its successful completion is a necessary component of the formal admission into the programme. You will receive an official acceptance letter from the university only after your foreign degree diploma has been recognised/nostrified in the Czech Republic. Please, be aware that the process of recognition/nostrification takes some time - up to 1 month for recognition and up to 3 months for nostrification. When planning your enrolment and studies, keep in mind that you should submit all the relevant documents sufficiently in advance.
Applicants who are unable to get their foreign diploma recognised/nostrified untill the end of September are allowed to submit a copy of their MA diploma no later than October 22, 2021. This is the extended and final deadline for enrolment in the academic year 2021/2022. Please, do not forget that the academic year already starts on October 1, 2021.
If you need to apply for a student visa in order to study in Prague, please, make effort to complete all of the required steps of the admission process on time (i.e. before October 2021 when the semester starts).
The specific admission requirements are stated in the respective programme links above.
Recognition of Foreign Diplomas and Degrees
Below you can find information concerning the official recognition/nostrification process which is a mandatory part of the Faculty's admission process. Without having finished the nostrification/recognition process, you cannot be enrolled in your studies if you have a foreign education certificate. You can start the process once you receive confirmation that you have been accepted to your chosen programme. During this process, please, take into consideration the aproximate length of each individual procedure.
To begin, you will need your MA diploma (together with the attachements you received, e.g. diploma transcript). You will not be using the original documents but verified copies of the original. Those copies should be certified either through an apostille (in case you are from one of the states that signed the Apostille convention) or super-legalization. Please, bear in mind that only copies in English or Czech language will be accepted for this process.
There are several ways how to get your diploma recognised:
Recognition by the Faculty

This process is inteded for single use only and can be used for one admission process. The process takes up to 30 days and costs 870 CZK (approx. 32 EUR/40 USD).

Automatic Equivalency

If you are a holder of a degree from Slovakia, Poland, Hungary, or Slovenia, your diploma is deemed automatically equivalent and does not have to undergo the process of recognition.
Nostrification

Nostrification documents have life-long validity and can be used for any admission process. However, the process can take up to 3 months.




Nostrification of high school diplomas costs 1,000 CZK (approx. 39 EUR/43 USD) while nostrification of higher education certificates costs 3,000 CZK (approx. 117 EUR/130 USD).
You can find out more about these proceses on our webpage, Recognition of Foreign Diplomas and Degrees.
Further Information
| | | |
| --- | --- | --- |
| Web | | |
| E-mail | | |
| Vice-dean of PhD Study Programmes | | |
| Phone | | |
| Address | | Pátkova 2137/5, 182 00 Praha 8 |