16 July 2021
New FHS Headquarters Nominated for the Czech Architecture Award 2021
The conversion of the former 17. listopadu dormitories canteen into the headquarters of the Faculty of Humanities, Charles University from Kuba & Pilař architects was nominated for the Czech Architecture Award 2021.
The Czech Architecture Award's primary aim is to present architecture to the wider public. A competitive showcase of the best in Czech architecture, the CAA not only highlights the aesthetic and technical quality of the nominated projects, but considers the context in which they have been built, their relationship to their surroundings and the social benefits they offer.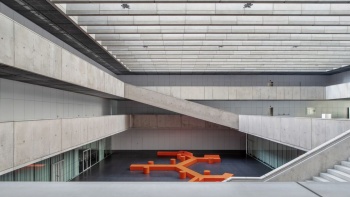 170 works have been submitted to the 6th annual Czech Architecture Award (CAA). An international jury of experts selected 30 of them for a shortlist of nominees. The most prestigious awards, the Finalists of the CAA and the Main Award winner, will be announced on 11 November at a gala celebration. The winners of the Unique Achievement Award (nominated by the CCA Academy and the Award Working Group) and Partner Awards will also be announced.