Living Expenses
The cost of living in the Czech Republic is on average comparable to that of other Central and East European countries. A single student is advised to have available approximately 8 500 – 10 000 CZK (approx. 330 – 400 EUR) per month to cover food, basic transport, and accommodation.
Be aware that the price of rent varies and depends on which part of Prague you live in, whether you are accommodated at a CU dormitory or private housing, and if you share the apartment with other people or not. The final cost of living, of course, depends on your personal spending habits.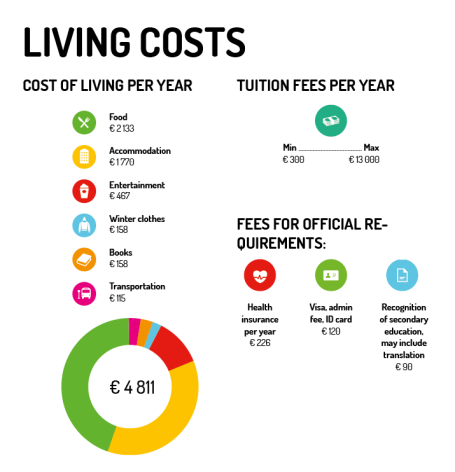 Source: studyinprague.cz
Accommodation
Charles University offers accommodation in its dormitories and residence halls. There are 11 residence halls in Prague – you can find the complete list on the Charles University Dormitories and Refectories page.
The university dormitories offer an affordable accommodation for all Charles University students. They also give you the opportunity to meet other students and take advantage of various student facilities, specific to each dormitory. They usually have great location near the city's public transport so you can get around Prague easily.
There are many different types of rooms you can book at all price points – you can expect the monthly costs to be anywhere between 100 euros to 400 euros based on which dormitory and type of room you want to book. You can find the price list on the Dormitories and Refectories website.
Since our Faculty moved to its new building (Pátkova 2137/5, 182 00 Prague 8), we especially recommend the Student Residence 17. Listopadu (Kolej 17. Listopadu) which is located right next to the new Faculty building. This dormitory offers accommodation in student apartments in which two rooms share common utilities (kitchen, bathroom).
If you are enrolling in your first year at our Faculty, our Student Administration office will be happy to help you with your accommodation reservation at one of the dormitories. Contact us at and we will send you a reservation form based on which we will communicate on your behalf with the CU Dormitories and Refectories during the booking process. Please, be aware that we only offer this service to first-year students.
If you choose to live outside the University premises, you should expect to pay higher rent. Rent is usually paid monthly and varies depending on the size, location, and equipment / furniture already present in the apartment. According to the Study in Prague portal, you may pay anywhere from 500 – 650 EUR/570 – 740 USD for a 1+1 flat in the suburbs to 650 – 800 EUR/740 – 910 USD for the same flat in the more centre adjacent areas. You can also try booking a room in a private student residence, such as the one offered by THE FIZZ, Student Accommodation in Prague, or others.
More information about accommodation options and relevant details is available here.
Public Transport
Prague's public transport system consists of the metro, trams, and city buses. The city is well-known for its efficient and interconnected system of public transport which allows for fast, easy, and ecological means of travel. The public transport system is a reliable and affordable way to travel around Prague. As a general rule of thumb, you can get anywhere within the city limits under an hour. You can find out more about public transit in Prague here.
Prague is also a good starting point for further travels because of its central location and great connectedness to other Czech and European locations. All Czech cities, towns, and many villages have their train stations and are interconnected well enough to make train travel a convenient way of getting from one place to another. Because Prague is a transport hub, you can also travel beyond Czech borders and easily visit Germany, Austria, Poland, Slovakia, or Hungary, to name a few.
| | | |
| --- | --- | --- |
| Location | | Distance From Prague |
| Berlin | | 340 km |
| Nuremberg | | 315 km |
| Munich | | 385 km |
| Budapest | | 530 km |
| Vienna | | 295 km |
| Bratislava | | 330 km |
| Krakow | | 394 km |
| Warsaw | | 517 km |
Health Insurance
Students arriving from the EU member states should make sure that they request a European health insurance card (EHIC) from their local health authorities before departing their home countries. EU nationals who are staying temporarily in the Czech Republic are entitled to receive urgent medical treatment free of charge.
Non-EU students should make sure that they have private medical insurance or they must expect to pay for all medical care. We strongly urge all non-EU international students to consult with their medical insurance company prior to travelling abroad to confirm whether their policy applies to the Czech Republic and whether it will cover emergency expenses.
Prague also has several clinics that cater to English-speaking clients and can provide a network of services from basic examination to accompanying a patient to the hospital. Please note, however, that these are usually commercially operated and may charge a fee.
In case of emergency, use any hospital or health clinic. In case of an urgent emergency, call 112.