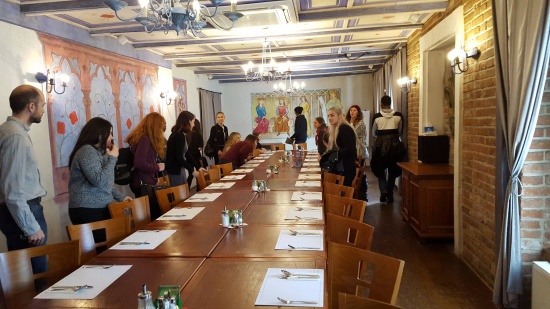 The Faculty of Humanities offers an undergraduate (Bachelor's) study program, Liberal Arts and Humanities, which is taught in English and one undergraduate program, Studium humanitní vzdělanosti, taught in Czech.
Description of the Field of Study
The Bachelor Degree study of Liberal Arts and Humanities is a university study in the humanities that is centred on philosophy, history, and cultural and social anthropology. The program's significant feature is a widely opened study schedule that allows students to pursue their individual abilities and develop their interests. Every student completes mandatory courses in humanities and social sciences and passes comprehensive exams relevant to each field. By properly choosing other courses during the study, students can gradually specialise and focus either on further (Master's) study in any of the relative theoretical branches, or on the practical use of acquired skills.
Admission Exam Date
Exam date for the bachelor's study program Liberal Arts and Humanities is May 9, 2020. Detailed timing to be determined later.
Exception: Any applicant who cannot take the admission exam at its scheduled time due to illness or another reasonable cause is allowed to take the exam at a later time. The applicant must formally request the extension through the Student Administration Office no later than May 12, 2020.
Admission Information
A letter announcing the exam's date is sent to applicants in advance.
Deadline for applicants/admitted applicants to submit a copy of their high school (secondary school) diploma is September 30, 2020. Applicants who take their final high school exams in September, as well as those who won't get a recognition of their foreign diploma till the end of September, are allowed to submit a copy of a high school diploma along with a copy of a recognition of foreign education no later than October 22, 2020.
For more information about nostrification/recognition of previous study check it here
Applicants with a disability, such as a specific learning difficulty, can request that the admission process be specially adapted to meet their needs. In this case a medical report must be included in the application form.
Applicants are required to prove their identity with an ID/passport to take the exam.
The entrance exam description and admission requirements are stated in the application.
Please, see the Sample Admission Exam. Time limit for the exam is set to 3 hours (180 min). Information about Preparation Course for the bachelor's degree study Liberal Arts and Humanities is available here.
Further Information
For more detailed information please proceed to the official web page of the program, or do not hesitate to contact us:
E-mail:
Phone: +420 251 080 211/363