Mgr. Veronika Seidlová, Ph.D.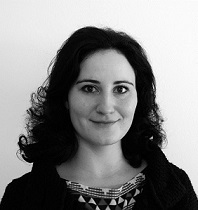 Veronika Seidlová (1981) earned her PhD. in anthropology at the Faculty of Humanities, Charles University in Prague (2016). Her dissertation, Journey of Mantra from India to the Czech Republic: Contribution to Ethnography of Music and Globalization, is a multi-sited ethnographical study of a transnational flow of Vedic mantras. She is currently employed as an assistant professor at the FHS UK. Veronika is author of e.g. the audio-text publication "The Forgotten Voice of the Jeruzalémská Synagogue in Prague" published by the Jewish Museum in Prague with the support of Phonogramm-Archive of the Austrian Academy of Sciences. From 2008 to 2010, she was curator and head of the Center for Documentation of Popular Music and New Media in the National Museum – Czech Museum of Music (e.g. Beatlemania! Exhibition).
Email:
Classes
YBA247 Anthropological Theory for Everybody
YBE012 Comprehensive Exam in Social Sciences
YBA205 Četba vybraných textů k antropologii hudby
YBA269 Diploma Seminar in Social Sciences
YBA019 Diplomní seminář k etnomuzikologickým tématům
YBA279 Ethnomusicology of Jewish Communities
YBA220 Hudebně-antropologický seminář
YBZB70000 Proseminář k akademickým dovednostem
YBE020 Tutorial
Publications
2016. Vícemístná etnografie: Příklady aplikace v současných antropologických a etnomuzikologických výzkumech. [Multi-Sited Ethnography in Contemporary Research in Anthropology and Ethonomusicology] Národopisná revue 2, 110-121. ISSN 0862-8351. http://revue.nulk.cz/obsah-cisel-archiv/obsahy.html?x=145#seidlova
2013 "Vyzpívat se z marginality? Hudebně-náboženské aktivity hinduistické asketky v indickém Ršikéši /Singing One's Way out of Marginality? The Musical-Religious Activities of a Female Hindu Ascetic in Rishikesh, India" in Jurková, Z., Stellmacher, M., Skořepová, Z., Kuhnová, K., Seidlová, V. 2013. Tóny z okrajů: Hudba a marginalita/Sounds from the Margins. Praha: Kher. 59-71; 130-144. E-book, available free from http://www.kher.cz/eknihy_nase.php
2013/14 Jurková, Z., Seidlová, V., Skořepová, Z., Jonssonová, P., Balog, P. 2013. Pražské hudební světy. Praha: Karolinum / Jurková, Z., Seidlová, V., Skořepová, Z., Jonssonová, P., Balog, P. 2014. Prague Soundscapes. Praha: Karolinum http://www.cupress.cuni.cz/ink2_stat/index.jsp?include=autorTitulu&id=8446
2012 Seidlová, Veronika. "K působení Františka Škroupa v synagoze v Dušní ulici aneb Vyjednávání pražských Židů s modernitou a jinakostí" Miloš Havelka a kol. Víra, kultura a společnost: náboženské kultury v českých zemích v 19. a 20. století. Praha: FHS UK a Pavel Mervart. 439 – 470. http://www.pavelmervart.cz/autor/milos-havelka-252/
2011 Jurková, Zuzana – Seidlová, Veronika. 2011. "Hare Krishna Mantra in Prague streets: the sacred, music and trance" Urban People / Lidé města 13, 2011, 2: 195-219. Available free from http://lidemesta.cz/archiv/cisla/13-2011-2/
Seidlová, Veronika. 2011. "Beatlemánie!" Musicalia Vol. 2011, Národní muzeum. V tisku.
2010 Fialová, Dagmar – Seidlová, Veronika – Součková, Taťána (eds.). 2010. Beatlemánie! Publikace u příležitosti výstavy. Praha: Národní muzeum.
2008 Seidlová, Veronika. 2008. Audio CD s publikací "Zapomenutý hlas pražské Jeruzalémské synagogy: Kantor Ladislav Moše Blum, osobní nahrávky z let 1978 – 1983" Praha: Židovské Muzeum v Praze ve spolupráci s Phonogrammarchivem rakouské akademie věd, 60 str. (Recenze na publikaci v A2, Jüdische Allgemeine, Czech Music Quarterly, Český Lid a Maskil) viz www.jewishmuseum.cz
Seidlová, Veronika. 2008. "Music – Religiosity – Community: Jewish Community in Prague (Case Study)" In Proceedings the ICTM Study group Music and Minorities, R. Statelova (ed.), Sofia: Bulgarian Academy of Sciences, 64-75.
2006 Seidlová, Veronika. 2006. "Still Waters Run Deep? How Music of the Czech Jews Has (Not) Been Studied" In Minority: Construct or Reality? Jurková, Z. – Soukupová, B. (eds.), Bratislava: Zing Print, 116-135.
Seidlová, Veronika – Hlávková, Petra. 2006. "Mishpaha – Myth of Continuity? A Concert of Jewish Music in Prague" In The Central European City as a Space for Dialogue. Soukupová, B. - Jurková, Z. - Stawarz, A. - Novotná, H. (eds.) Bratislava: Zing Print, 78-101.
2004 Seidlová, Veronika – Ripka, Štěpán. 2004. "Romská hudba v Rusku" In: Jurková, Zuzana (ed.), Cesty romské hudby, Praha: Saga.