Mgr. Lenka Martinec Nováková, Ph.D.
Lenka MARTINEC NOVÁKOVÁ, assistant professor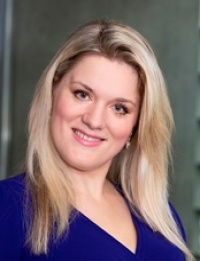 Department of General Anthropology
Research Area
I am currently an assistant professor within the Department of Anthropology and senior researcher at the National Institute of Mental Health, Czech Republic. My research takes a multi-disciplinary approach to understanding of how our chemical senses develop across the lifespan.
For information about current projects please visit:
researchgate.net/profile/Lenka_Martinec_Novakova (ResearcherID F-6474-2015)
Contact Information and Office Hours
See SIS.
Working Experience
01/2018–present: University Research Centre UNCE/HUM/025 (204056) "Nature and Culture: Historical, cultural and biological concepts of the human behaviour"

01/2015–present: National Institute of Mental Health, Czech Republic (senior researcher)

10/2013–present: Department of General Anthropology, Faculty of Humanities, Charles University, Prague, Czech Republic (assistant professor)

10/2013–12/2017: University Research Centre UNCE 204 004 "Nature and Culture – Interaction of Cultural and Biological Evolution in an Interdisciplinary Perspective"

01/2014–12/2016: Faculty of Science, Charles University, Prague, Czech Republic (researcher)

02/2013–09/2013: Department of Anthropology, Faculty of Humanities, Charles University, Prague, Czech Republic (lecturer)

01/2010–12/2012: Faculty of Humanities, Charles University, Prague, Czech Republic (researcher)
Education
2009–2013: Anthropology (Ph.D.).

Thesis: Factors contributing to interindividual differences in olfactory abilities and odour awareness

2006–2008: Anthropology of Past Populations (M.Sc.)

2003–2006: Humanities (B.Sc.)
Internships and Fellowships
Grants
01/2017–present: Czech Science Foundation, The effect of olfactory stimulation on affective valence of dreams and affective state upon waking (GA17-14534S) – principal researcher

03/2016–12/2017: Charles University Grant Agency, Autonomic and behavioural response in newborns measured in relation to varying levels of trigeminal stimulation (GAUK 156416) – supervisor

2015, 2016, 2017–2019: Specific Academic Research Project, Adaptive mechanisms in the human mind (SVV 260 239, 260 348, 260 469) – principal researcher

01/2014–12/2016: Czech Science Foundation, The role of trigeminal perception in formation of olfactory preferences (GA14-02290S) – co-worker

01/2010–12/2012: Charles University Grant Agency, Factors influencing the formation of sex differences in olfaction and the social impact of congenital anosmia (GAUK 6010) – principal researcher

2011: Charles University Grant Agency, Olfactory development and changes in olfactory abilities and preferences in puberty (GAUK 57010) – co-worker

01/2010–12/2012: Czech Science Foundation, The development of olfactory abilities and preferences during childhood and puberty (GAP407/10/1303) – co-worker