Menza
Students can have their lunch in any student cafeteria ("menza") of Charles University for a discounted price of around 50 CZK. The list of Charles University cafeterias is available at: https://kam.cuni.cz/KAMEN-70.html
If you want to eat in Jinonice cafeteria you need to order your meal at least one working day in advance (till 4:00 PM). To be able to use the online ordering meal service, you are expected to charge your student card at the cash desk (on the ground floor). Each meal will then be charged from the cash you have deposited at the cash desk. You may also use your credit to pay for other food at the buffet (small snacks, pastries, coffee etc.).
On this website, you can choose and order your meals in advance.
Important notice: The cafeteria staff speaks only Czech. You will have to be able to translate all information (daily menu to choose from, etc.) from Czech.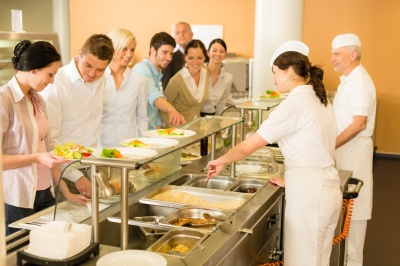 Opening hours in Jinonice cafeteria & buffet
| | | |
| --- | --- | --- |
| | CAFETERIA | BUFFET |
| MONDAY | 11:30 am - 2:30 pm | 8:00 am - 6:00 pm |
| TUESDAY | 11:30 am - 2:30 pm | 8:00 am - 6:00 pm |
| WEDNESDAY | 11:30 am - 2:30 pm | 8:00 am - 6:00 pm |
| THURSDAY | 11:30 am - 2:30 pm | 8:00 am - 6:00 pm |
| FRIDAY | 11:30 am - 2:00 pm | 8:00 am - 6:00 pm |